Is a burger really worth $9? And can do such establishments deserve a second chance when they screw up badly?
"Red Robin"
---
Review by Eric Renderking Fisk - December 4th, 2008
---
15 Hazard Ave

Enfield

,

CT

06082




Fax: 860-741-9859

Somewhere on The Electric Speakeasy there's a quote that might become our motto for a short while: "Everyone gets knocked over: The measure of a man is how well he gets up again." The same holds true for eating establishments; from one of a kind sole proprietors, hot dog stands and even chains. Everyone deserves a second chance, no matter how badly they fouled up. This review is one great example.
Here's a franchise with a great menu, each store that's every Vintage Aficionados dream from the posters on the wall to the retro-style interior. When some of these stores started popping up around the North East I became very excited since many of our members told me I should check it out. After the first visit: I was ready to lambaste this chain and eagerly awaited it's demise, I have never before wanted to walk out before the food arrived and then walk out before paying the check after it did.
After the second visit: I'm a convert and wish I had the capitol to put one on the intersection of the two major roads here in my home town of New Hampshire and this is exactly the kind of place I would haunt several times a week.
One Bad Apple Can Spoil The Bunch
Little less then two months ago my wife and I were driving back from visiting her parents in The Garden State and we saw one of the signs along the highway that read there was a "Red Robin" off the next exit. My wife and kids were hungry, I wanted a place to immerse myself in retro culture and maybe get something to eat. A lot of you folks have told me this was one place I really needed to check out. Maybe we could all meet up at one before heading out to see a World War II memorial or museum exhibit, or hang out after seeing a classic or period film.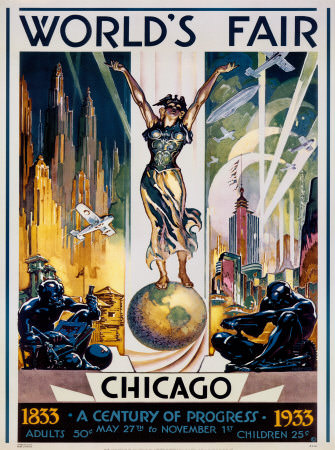 Once inside, I understand what a lot of you were raving about, this one had hanging on the wall a lot of re-prints of classic Black And White photos, movie posters - the one that caught my eye was the poster for the Chicago's World's Fair. I was feeling a really good vibe about this place. That vibe did not last.
To be honest, I have no idea when the exact moment when things turned south for us during this visit. My wife and I ordered drinks, I went to the Rest Room and came back to find not much had changed with I returned. We sat there talking about the trip to her parents and how things remained the same in her neighborhood, the refurbished one-room school house that closed in 1933 and is now a historical land-mark and museum, the traffic up and the completion CD with a few songs that I knew of but didn't know their titles or who performed them until now. Any time I can just sit and talk to my wife is a good time... until the kids have waited too long and get obnoxious.
I noticed our waitress hanging out and talking to the cooks - one of the things that I like about this particular Red Robin (I'm not sure if this is true for the others...) is that they have the kitchen wide open and you can watch your food (and everyone else's) being prepared. After watching her for a while I noticed that it's been about 20 minutes since we placed our order.
The place wasn't packed, it was 10 minutes to 2PM when we walked in, and it was quickly approaching 2:30. My wife and I are also watching our kids fill up on Chocolate milk and I'm sure they're not going to eat anything. And why would they, when everything finally arrived everything was "warm" - not fresh off the broiler hot that you would expect. Fish and Chips like my wife ordered shouldn't be room temperature. What's supposed to be "America's Gourmet Hamburger" is marginally better the already pre-made stuff we usually get out of the drive through and took too long to get it.
I admit that I'm short on patience, watching the waitress socialize with the hostess and the other waitress at the hostess stand by the front door or the cooks in the kitchen. I'm looking at the time and I admit that even staring at the vintage posters has lost it's thrill with now two whinny kids. I'm ready to walk out, or protest when the bill comes. I'm half tempted to get up and start yelling at the staff.
My wife asked me not to bother - we'll pay the bill and just not come again and write some snarky review on the site. I couldn't wait to get home, and hammer something out. The waitress takes out plates, knowing where torqued off. She doesn't return with the food in take-home containers or bags. That's about half our food thrown in the trash. I'm more then a little angry. Now I'm REALLY looking forward to hammer out a snarky review. When I'm walking out of the restaurant trying to make sure I don't make eye contact with any of the employees because I know I'm going to say something rude. I just paid three times as much for something I could have gotten out of a drive-thru window and I didn't get the chance to eat half of it.
My wife and I took great pleasure in talking about how bad the whole experience was. We weren't alone...
My husband I went one night during the week for dinner. We had heard great things about this place and were excited. First our spastic waitress had us order drinks, we got margaritas (me strawberry). When she delivered them my tasted like crushed ice so I sent back, about 20 minutes later I had a new drink, but it was a daiquiri????? I wanted a margarita, whatever. Then our appetizer was empty moz. cheese sticks and our well done burgers were med. rare. Yuck. Our waitress was a nightmare and the food was worse. She brought our check right when we got our burgers, what??????????? So, I filled out one of there surveys and would never go back!
Published by Tracey C.
Did we have the same waitress? All the other reviews on all the other sites were 4 and 5 star reviews. What's going on here?
By the time we arrived home, I had forgotten about the experience and after unpacking we hunkered down with something to drink and The Maltese Falcon. Life went on and as the time passed we had other things to think about such as the election, what to do with our torn up floors in our living room and what to do with the kids on Halloween...
... For the time being there was something more important to do besides ripping into a restaurant chain.
Heart Felt Response
My wife found the receipt a few weeks ago and sent off an angry letter to the corporate about the lack of quality of the food and the service...
... Let me interject here and write that my wife is not a mean and vindictive person. That's my angle. She's the perfect balance to by brash, blunt abrasiveness. My wife is incapable of saying a bad word about anyone - even in private - even if she's given ample reason to do so. She's a sincere and loving woman and far better then I deserve. Writing this scathing letter is totally out of her character. Few days later she received a deeply apologetic letter from the manager of the Enfield Connecticut who asked us to give them a second chance.
November 13, 2008

Dear Carol:

I'd like to first thank you for choosing Red Robin and taking the time to speak with me the other day. We strive to consistently exceed the expectations of all of our guests, and we would like to take the time to apologize for your recent experience. I appreciate your feedback and I have taken the time to share your comments with my management team in hopes of reaching complete guest satisfaction. We do again apologize and we hope to gain your confidence back in the future.

Of course, this does not account for your frustration, yet we hope that you will give us another opportunity to serve you up to your standards in the future.

We hope to see you back here soon and when you do stop in please inform your server of our communication and feel free to ask for me specifically.

Please present this letter for your choice of two (2) burgers or entrees on your next visit

Sincerely,

George McLean
General Manager
Now, let me also interject and say that this is unheard of. I have never heard back from a store manager after leaving a bad review. I've hammered some restaurants and left scathing "suggestions," and gave them suggestions on how they could change or fix their problems.
Second Chances... What I Difference A Waitress Makes.
So, there we were, the Saturday after Thanksgiving and I'm convinced that this has to be better. There's just no way that an establishment can become a franchise if the quality is consistently awful. I'm also apprehensive because it's clearly much busier then the last time we where here - on that afternoon in early October there were only three tables occupied but on Saturday, November 29th there were only three tables empty.
The mood had changed dramatically since our first visit. Having the place nearly packed added something to the atmosphere, there was a tangible spirit in the air that could only be described as a festival atmosphere. It wasn't rowdy or loud, but like this was a happening place where you wanted to stay, or go if you just found out about what was going on there. Our waitress Maureen greeted us warmly and asked for our drink order. If there's a locally brewed beer on tap, that's what I'll get - if not I ask for the waitress or waiter to make a suggestion. I had a "Blue Moon" while munched on the Onion Rings appetizer that my wife ordered for all of us to share. Right away I knew things were different because we got them almost right away. Soon after I ordered the Whiskey River Burger, while my wife picked a chili burger (like my burger, with chili inside like any other condiment.) and they arrived faster then I expected so that we could eat the food the way it's meant to be eaten. Which brings me to the actual menu...
Is a burger really worth Nine Dollars?
Who says that a burger has to be cheap? The burgers that were served to us were twice as large as anything you can get at fast-food joint and most diners and they're stuffed with ingredients that seem obvious now only after they took the first daring steps to put them there. You know that you're eating something good when you're stuffed and you're still eating - such was the case of the two burgers my wife and I ordered. If she and I split one then I think we both would have been satisfied. I defy anyone to eat a whole burger in one sitting. I could do it if I skipped lunch or breakfast and staggered through the door starving.
One of Red Robin's claim to fame is "bottomless fries," which are the generic steak fries, not the shoe-string variety. Again, can you really eat more then one serving? The fries themselves aren't really that great. They have the option of having a small sprinkle of garlic baked in - which is what you really WANT to order and make sure your date does to... garlic breath isn't bad when you're not the only one who has it. What ever you order, it's going to be great so long as it's fresh out of the kitchen.
The desert menu is a bit sparse - there were three items that didn't interest us since we and our two kids were ready to be rolled out the door. Someone must have figured out that after eating a burger that's half the size of your plate doesn't leave much room for anything else. Our waitress made suggestions that were very tempting. Which brings us to our waitress, Maureen.
The waitress can either make or break your experience. With a lousy waitress you can build up animosity towards the establishment and it's easy to believe that the whole place is rude or not trying to keep your business. A bad waitress will make you want to go and not come back. Maureen made it so that I didn't want to leave. She was incredibly cheerful and made us feel welcome. After dealing with my family and still had a smile - Maureen deserves a raise or promoted.
Another Visit?
The obvious question is simple, would I go for a third time? The answer is absolutely yes. Not only that but next time I would like to meet some of you - our readers - there. I would love to make a date and meet those of you in the North East and just see what you people think.
"Red Robin" made a huge effort in getting us back and asked for a second chance. The fact that they have a procedure when someone voices a complaint says to me they acknowledge there have been some problems in the past and are making an effort to turn things around. On the check, the two burgers my wife and I ordered were marked "Cust. Reclaim" which makes me think our problems weren't uncommon in the past and they've made a consistent effort to make things right for those willing to speak up. Judging by the changes made in about two months, those efforts have paid off.
Other franchises seem to think they're too big to fail and in these hard economic times they're going to find themselves in trouble. Gone are the days when unsatisfied customers will walk out the door and eventually come back. As money is becoming harder to part with - people are less likely to frivolously shake off a bad experience and go back for a second try.
"Red Robin" has a great business model and made an attempt to make things right with us. If you've been burned by them in the past - as it's clear by some of the other sites I've visited - then you owe them one more chance. I hope you'll be presently surprised.
... And yes: Some burgers are worth $9.
You can discuss this review or the chain in general in this thread on The Electric Speakeasy: Red Robin Restaurant Review